Part of my job as a beauty blogger is trying new products – which I love but it can create quite a cluttered mess on my bathroom counter.
I love keeping my products organized and this dollar store lazy Susan organizing idea has transformed my bathroom counter and all for just a few dollars!


I wanted to share the details with you so you could try this in your home, whether you need one for your spices, your makeup or cleaning items, this project has been one of my favorite organizational tips.
Here are the supplies needed to make your own Dollar Tree lazy Susan:
This step is optional, paint the inside (and outside if needed) of the cake pans to match your décor, you might need several coats. Let Dry completely.
This is another optional step but I started by measuring and cutting out a shelf liner to cover the inside bottom of the cake pan to prevent products slipping and sliding.
Pour the marbles into one of the cake pans.
It will turn just like a store bought lazy Susan and it's perfect for making sure products are displayed and won't get hidden in the back.


This is such a simple, quick and inexpensive idea!


You will love the results and just how inexpensive this idea is to add to your home.


Everything always $1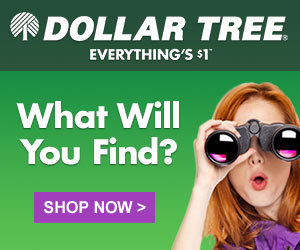 Thanks for supporting my blog 💕
~Jennifer